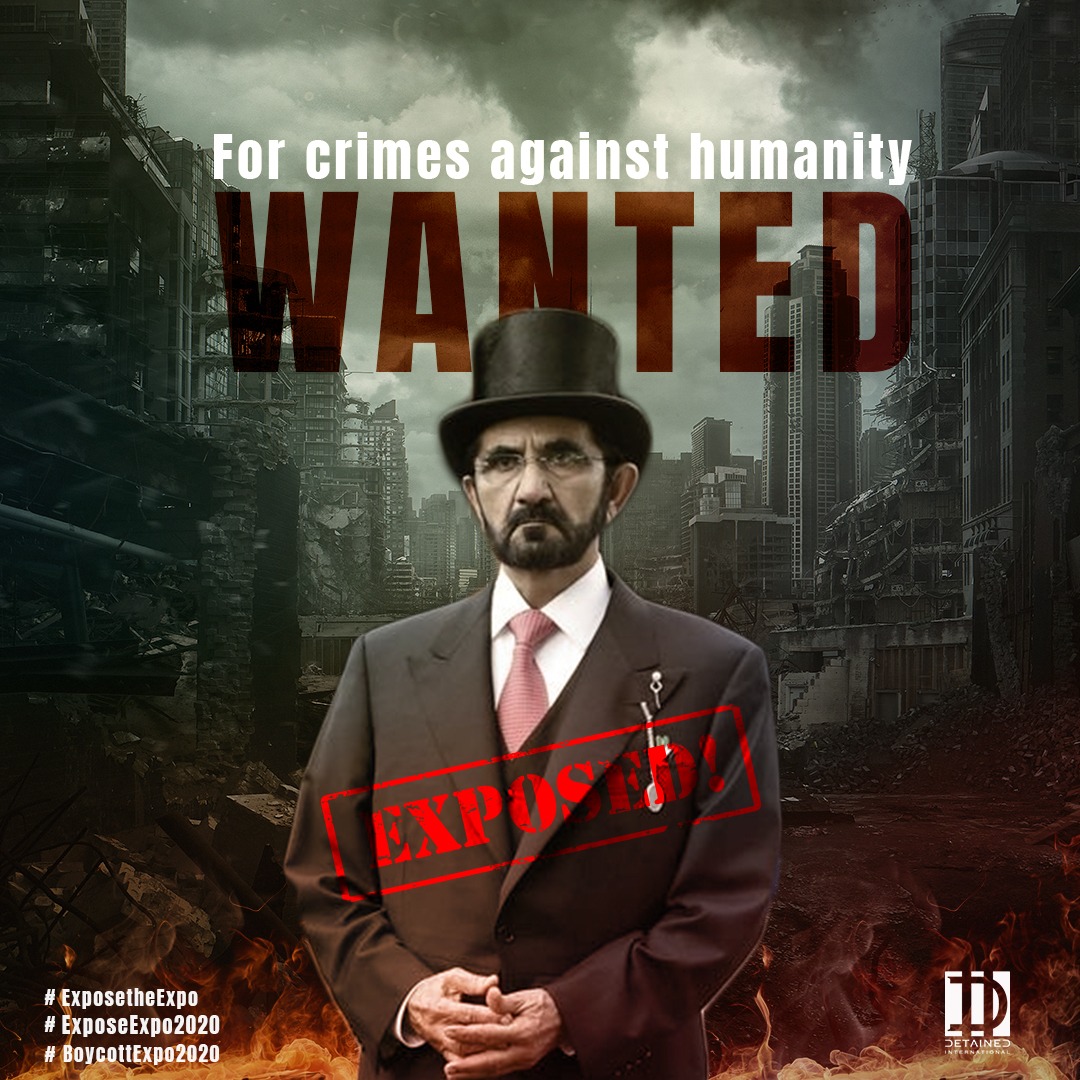 LONDON, 1 October 2021 – 
A group of leading human rights non-governmental organisations has slammed the Expo 2020 Dubai which opens today, saying the world should not be dealing with a host country that systematically abuses human rights, including committing war crimes in Yemen and imprisoning UAE human rights campaigners who object to the state's Human rights violations.
The world expo, delayed by a year due to the Covid-19 pandemic, runs until 31 March 2022, with 192 countries having confirmed participation. But the NGOs say the staging of the expo in Dubai is "hypocrisy" due to the human rights abuses perpetrated by the regime both within Dubai and in other states, and it means participants are breaching their corporate social responsibility policies or human rights legislation by taking part.
A letter signed by more than 70 organizations to the president of the United Arab Emirates (UAE) Sheikh Khalifa bin Zayed al Nahyan calls on the Emirati authorities to "release all imprisoned human rights defenders and activists detained in violation of their right to freedom of expression, and to comply with international standards for prisoners, including by allowing regular family visits, access to healthcare and regular consultations with their lawyers, and ending the practice of holding them in solitary confinement."
Human rights lawyer and campaigner David Haigh, who himself spent 22 months jailed without charge in Dubai and today heads up the advocacy and assistance NGO Detained International, said, "All the sweet words about tolerance, respecting human rights and basic decency that come from the words of politicians and company CEOs mean nothing when they take part in this sham of a trade fair.
"There are innocent campaigners being held in Dubai jails whose only crime is to have highlighted the regime's human rights abuses, and the ruler of Dubai Sheikh Mohammed bin Rashid Al Maktoum has been found guilty in foreign courts of serious
human rights abuses, in addition to kidnapping two of his daughters, one from UK soil. Yet the world continues to turn a blind eye – participants at Expo 2020 Dubai are dancing on the graves of those murdered by the state and on remnants of the lives of those being held without trial in squalid prisons."
Detained International has today launched a 6-month campaign "#ExposeTheExpo" – to highlight the injustices and human rights violations the trade fair's hosts are attempting to hide from the world, the participants, and visitors to Expo2020Dubai. The campaign will contact each of the participants and high-profile supporters one by one to evidence the gross human rights violation in Dubai and the wider UAE and the hypocrisy of their attendance at the world trade fair.
Detained International launched the campaign by publishing a set of powerful advertising placards that portray Sheikh Mohammed as a criminal. One shows him in his Royal Ascot top hat and tails with the words "Wanted: for crimes against humanity", while another has the word "Liar" and "Kidnapper" under the expo's slogan "Expo2020Dubai wants to shape the future".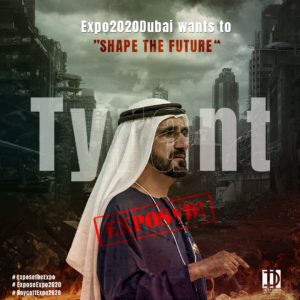 The NGOs' letter highlights the cases of nine people being held in Dubai. Four are political prisoners who have served their sentences but continue to be held behind bars, three are pro-democracy human rights lawyers from the UAE94 movement, one is a prominent human rights activist, and one is an academic.
Haigh added, "There are plenty more we could have added. Detained International is currently fighting for the freedom of many detainees in Dubai, including Zack Shahin, an American who successfully built and ran leading Dubai property developer, Deyaar. When Zack wanted to leave Deyaar and return home to America to focus on his children he was made the scape goat in a political power struggle that saw a senior member of the ruler's court effectively commandeer the company.  To stop Zack talking he has been set up and held in prison for nearly 14 years without charge. Zack who has been on hunger strike twice faces dying in prison.
"This is typical for Dubai, yet the world still turns up at its party. No-one should believe a word of anything any of the attendees says about supporting human rights and the rule of law, because they are conniving in this appalling catalogue of blatant abuses and the continued attempts of Dubai to fool the world."
End
About Detained International: Detained international is a legal advocacy NGO that provides pro bono legal advocacy to victims of injustice, inequality and other human rights violations in Dubai, the United Arab Emirates and wider Middle East.
Headquartered in London and Washington DC, Detained International was founded in 2018 by UAE torture victim David Haigh, a prominent human rights lawyer and justice and equality advocate. Detained International exists to help people in their hour of need, in many cases when they have been locked up far from home for no legitimate or even apparent reason and lack the support from obvious channels like their national embassy.
Press Contact
David Haigh / Peter Margetts            
Detained International
+ 44 (0) 203 900 1188
+ 44 (0) 752 707 7777
Email:                          press@detained.org.uk
Twitter:                       @DetainedIntl
Facebook:                    @DetainedIn
Instagram:                   @DetainedIn
LinkedIn:                      @Detained