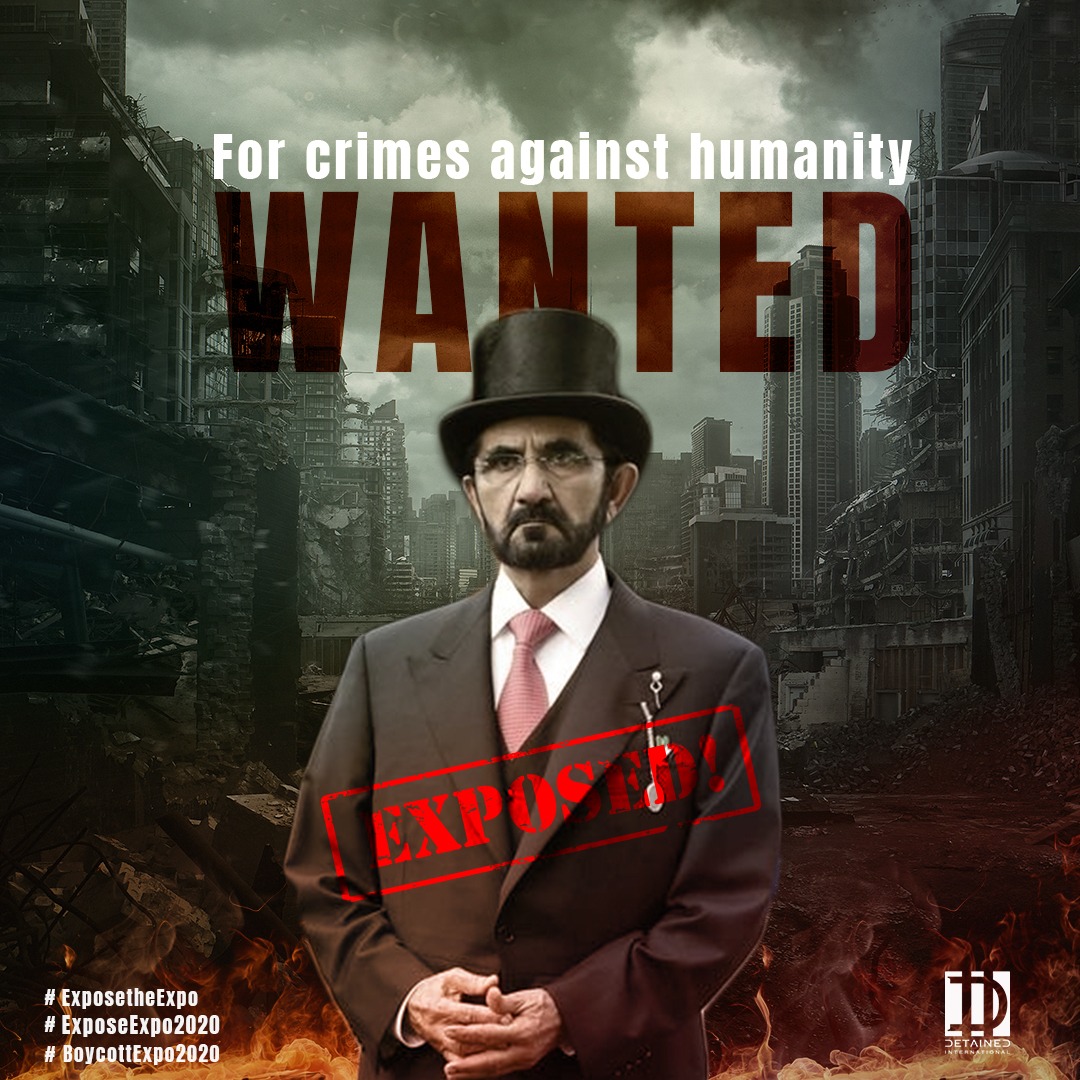 LONDON, 5 March 2023 – 
Dubai ruler kidnap survivor calls for Sheikh to be put on trial for her kidnap and for a boycott of Dubai COP 28 at London protest march.
A high-profile human rights campaigner, who was kidnapped by Dubai forces on instruction of the Dubai ruler, and vice president of the UAE Sheikh Mohamed Bin Rashid Al Maktoum today joined a protest in London with leading human rights groups and environmental activists to demand a global boycott of COP 28 UAE.
Tiina Jauhiainen, marked the fifth anniversary of her kidnap by the UAE, by joining other victims of United Arab Emirates (UAE) human rights abuse and the legal advocacy NGO that campaigned for their release, Detained International, at Marble Arch in London today.
Dubai, UAE the third largest producer of the OPEC oil alliance, is set to host the 28th Conference of the Parties (COP28) to the United Nations Framework Convention on Climate Change (UNFCCC) in November 2023. The COP is held every year to discuss and find solutions for climate change. COP28 will be held at Dubai Expo City from 30 November to 12 December 2023. Starting in February 2023, the UAE will use the COP28 as part of a 
year-long "Climate Expo
".
Dubai's: hosting of the worlds conference designed to combat climate change has already led to significant worldwide criticism, from climate justice activists, human rights campaigners and world politicians alike. The recent appointment of UAE oil chief Sultan Al Jaber, the CEO of the Abu Dhabi National Oil Company (ADNOC), as President of COP28 has now led to increasing criticisms and international boycotts of COP 28.
Leading climate activist Greta Thunberg has called such decision "completely ridiculous". Greenpeace said it was "deeply alarmed" with Green party MP, Carolina Lucas, calling the UAE "climate criminals".
Tiina Jauhiainen, a human rights campaigner, kidnapped at gunpoint by UAE forces in 2018 on the instructions of the Dubai Ruler Sheikh Mohamed bin Rashid Al Maktoum, said:
"Dubai and the wider UAE are not just some of the world's worst climate criminals they are some of the worst human rights abusers and war criminals. They are, quite simply, Unfit to host COP28.
"We should be putting the UAE leaders, including the Dubai ruler Sheikh Mohammed Bin Rashid Al Maktoum on trial for kidnap, war crimes, human rights abuses, and climate crime, not reward him and other UAE rulers by allowing them to take a place on the world stage hosting COP 28 or any other international event. To do so makes a total mockery of the very purpose of the UN climate change conference and is an insult to those like me whose human rights they abused and continue to abuse."
David Haigh, the founder of Detained International and the lawyer appointed by numerous victims of kidnapping and human rights abuses by the UAE, including HRH Sheikha Latifa Al Maktoum, the daughter of the ruler of Dubai said: 
"The absurdity of one of the world's largest oil producing countries and climate abusers hosting the very conference aimed at protecting our climate is as ridiculous as the head of the UAEs state oil company ADNOC leading that conference. It is like putting Dracula in charge of a blood bank.
"The world has already looked the other way whilst the UAE weaponized sport around the world, from football to tennis, to horse racing to sports wash their human rights abuses and war crimes. Using its ownership of such sports clubs as Manchester City as a cover to hide such abuse while presenting a facade of sport loving country with benevolent modern leaders.
"The world continued to look the other way whilst the UAE, one of the worlds worst human rights abusers and war criminals, took seats on the UN human rights council and the UN security council.
"The UAE and its leaders, including Dubai ruler Sheikh Mohammed Bin Rashid Al Maktoum have already been found by English courts to be criminals, kidnappers even, whether it's their own citizens, tourists visiting Dubai or their own Princesses. As the world faces a devastating climate emergency, the world must not look the other way again and allow the UAE to kidnap COP 28, kidnap our climate and kidnap the future of our planet."
Press Contact
David Haigh / Peter Margetts            
Detained International
+ 44 (0) 203 900 1188
+ 44 (0) 752 707 7777
Email:                          press@detained.org.uk
Twitter:                       @DetainedIntl
Facebook:                    @DetainedIn
Instagram:                   @DetainedIn
LinkedIn:                      @Detained