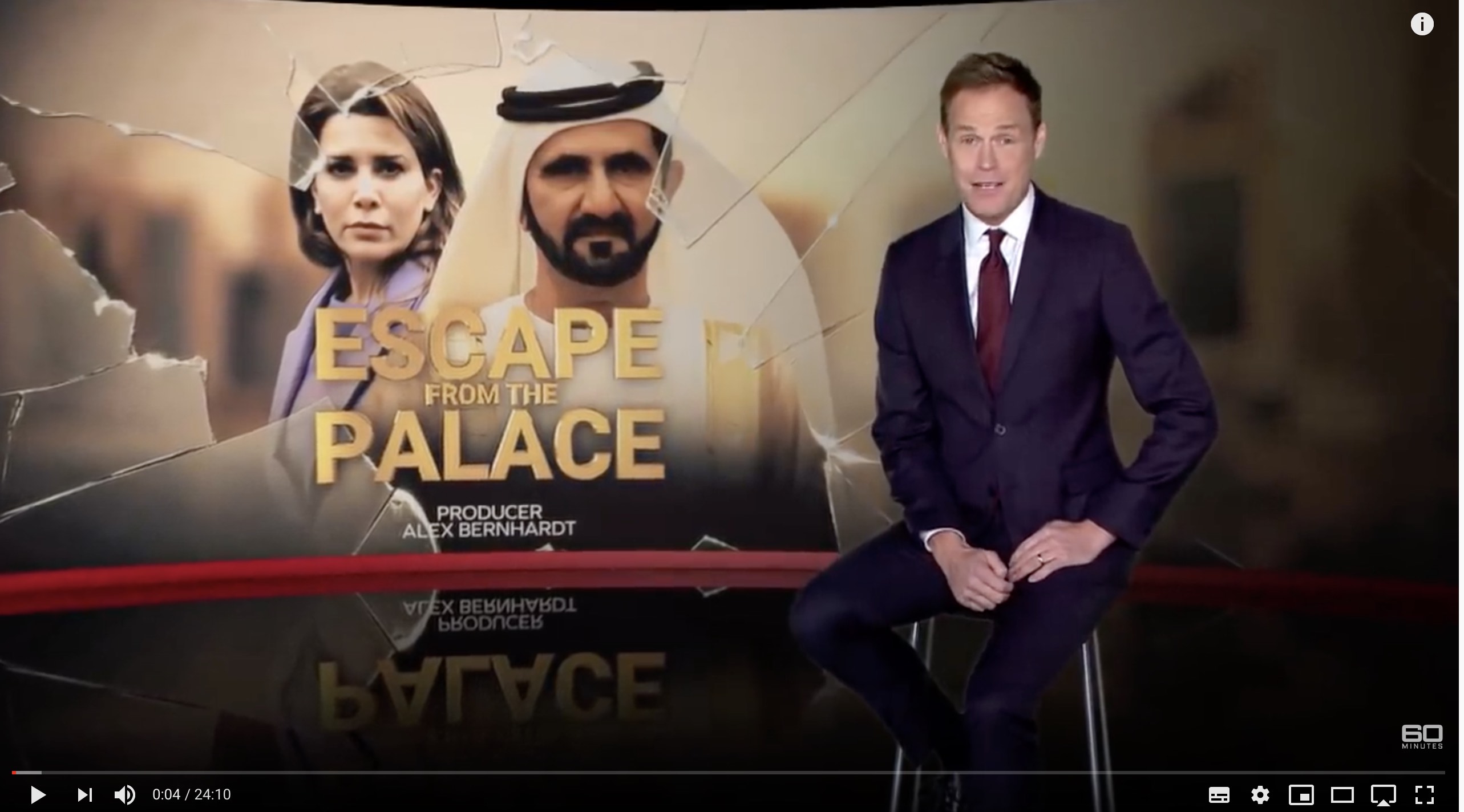 Escape from the Palace – Where are the missing princesses?
David Haigh interviewed by Award winning news television show 60 Minutes Australia, whom released their fourth instalment on the case of Princess Latifa recently with the YouTube version quickly passing more than 1 million views within days.
FreeLatifa Co-founders Tiina Jauhiainen and David Haigh appeared in the fourth instalment which focuses again on Princess Latifa, her stepmother Princess Haya and two other Gulf women.  Human rights lawyer David Haigh CEO of legal advocacy NGO Detained was interviewed by reporter Tom Steinfort, with David updating Tom and the 60 minutes viewers on the latest developments on the campaign to Free Latifa and the divorce and custody case of her Stepmother Princess Haya.
David Haigh said "we are very grateful to 60 Minutes and Channel 9 for their long-standing interest, investigation and support re Princess Latifa.  We are overwhelmed that the 4 instalments, the first of which in summer 2018 was the first prime time news show to run with Latifa's story, have been seen by a staggering 15 million plus viewers online alone. The third instalment saw Latifa's own cousin Marcus Essabri break his silence and speak publicly for the first time, calling for the release of his Cousins Princess Latifa and Shamsa. Each new person that hears of the bravery of Princess Latifa is another person supporting her bid for freedom"
The full 60 Minutes coverage can be found on the #FreeLatifa YouTube channel.
Notes to editors
About Free Latifa: Princess Latifa stands for every person, especially every woman, who is held against their will when they have done nothing wrong. The Free Latifa Campaign is run by Latifa's family, closest friends, supporters and advisers. It is headed by Latifa's best friend Tiina Jauhiainen as Campaign Director, human rights lawyer and campaigner David Haigh, Latifa's cousin Marcus Essabri, and Latifa's close friends Stefania Martinengo and Marko Remes. The campaign also benefits from the support of Human Rights Watch, Amnesty International, Detained International and a growing number of Latifa's family, supporters, media, lawyers, politicians and celebrities around the world. "The campaign's main goal is to #FreeLatifa, but it is also about the wider theme of justice and human rights in the Gulf, and it is run in a spirit of positivity and respect for all individuals  Updates on the campaign can be found on www.freelatifa.com
Press Contact
Tiina Jauhiainen and David Haigh
Email:                           latifa@freelatifa.com
Telephone:                   + 44 (0) 203 900 1188
Twitter:                         @freelatifa
Facebook:                    @freelatifa
Instagram:                    @freelatifa