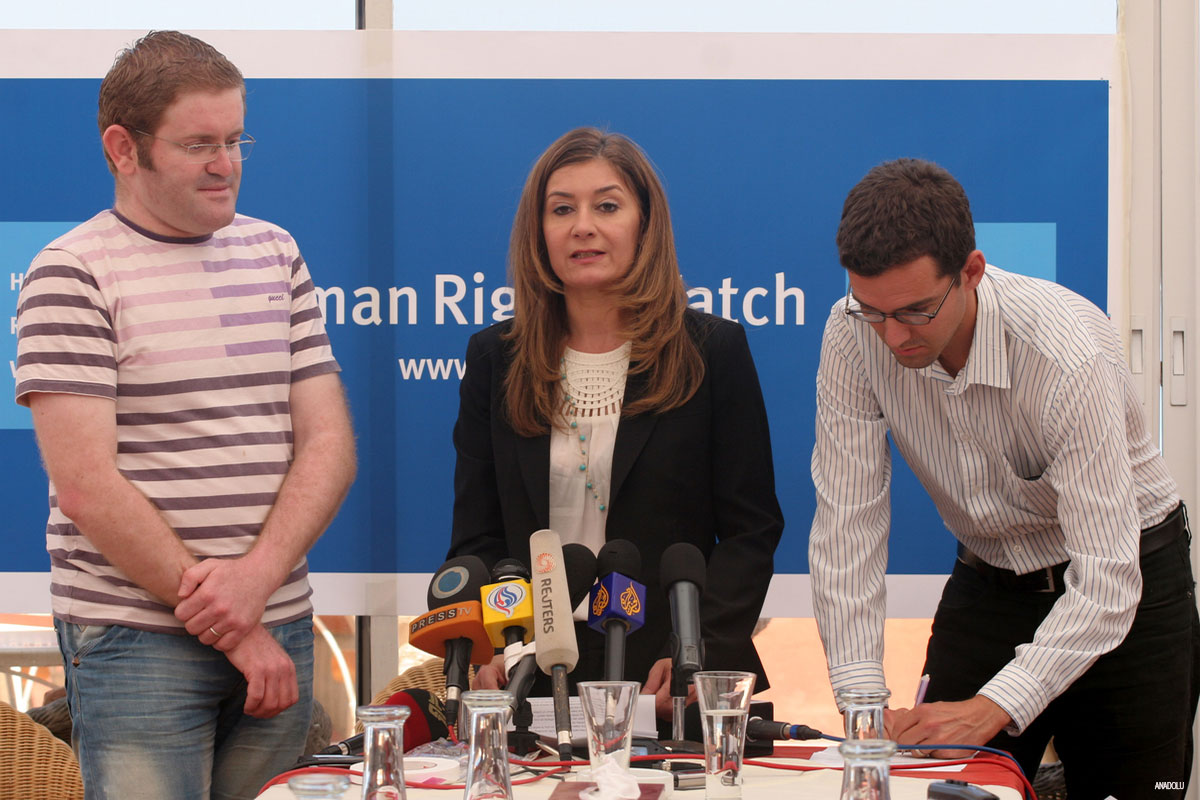 Last week, Human Rights Watch issued a press release with a comment from Joe Stork, the organisation's esteemed Deputy Middle East Director. "If UAE businessmen can have their partners locked up when they don't like the tone of their tweets," he wrote, "one has to question whether the UAE is a safe place to make any form of criticism."
Human Rights Watch knows all about the repression of freedom of speech in the UAE. Stork's boss, Middle East and North Africa Director Sarah Leah Whitson, was barred from entering the country on 24 January 2014; a day earlier, the launch of HRW's annual report was cancelled unilaterally by the local authorities. The organisation is now banned from operating in the UAE.
Stork's comment was made regarding a former managing director of Britain's Leeds United Football Club, David Haigh, who was due to be released on earlier fraud charges on 16 November last year. He had been convicted in August, in a trial in which all of the court documents were presented to him in Arabic — a language he neither reads nor speaks — and in which he was not permitted to give evidence himself, nor cross-examine witnesses. He claims it was a stitch-up. Two days before his release date, Haigh's former employer in the UAE made a complaint to the Dubai police about an alleged "slander" on Haigh's Twitter account; in Dubai that is a criminal, not a civil, offence. As a result, Haigh remains in prison. His representative told Human Rights Watch that a third party was managing Haigh's Twitter account at the time, because Haigh himself had no access to social media. Last week, a judge adjourned the trial for the sixth time, until 21 March. Haigh's prospects are looking pretty grim.
Stork's take on Haigh's plight was about the wider problem of freedom of speech in the UAE, and suggested that if Dubai businessmen can exploit the corrupt courts to play out commercial vendettas, then perhaps the government could do so as well, in order to victimise political activists. In May 2015, the UN special rapporteur on the independence of judges and lawyers expressed concern that, "The [UAE's] judicial system remains under the de facto control of the executive branch of government."
Let's say for a moment that you don't give a jot about human rights; you just want to get over to Dubai and do some business, regardless of the political repression that goes on there. It's a fair position; simply living and working in a country does not mean that you endorse the actions of its government.
The British government certainly wants more UK businesses to set up shop in the Emirates, but how safe is it for business? Emirati law exists, but it's not much use if you want to enforce a contract. A text to the judge from your opponent the night before the case appears in court can scupper any chance of a fair hearing. As in Haigh's case, documents are frequently presented only in Arabic, which means that you'll need to pay for accurate translations and, ideally, Arabic-speaking lawyers. Banks are hesitant to lend to companies using UAE courts for exactly this reason; that's why most international corporations don't use those courts, preferring British judges instead.
What about low taxes? It's actually a bit of a myth that the UAE has no taxes; companies can be taxed as high as fifty-five per cent (compared to twenty-one per cent in Britain). With oil prices staying low, the UAE government, like all of the other Gulf States, is looking at raising personal taxes.
In any case, the high cost of living in Dubai pretty much cancels out any tax boons for British expats. Not only that, but employees live there at the constant whim of the authorities; visas are only ever issued for three years at a time, and can be revoked at any time without appeal. Dubai is also economically precarious, reliant on bail-outs from Abu Dhabi whenever the property market takes a hit. Abu Dhabi's largesse is, however, reliant on the oil price remaining high, which it isn't.
A June 2015 Freedom of Information Act request from British solicitors into abuse in police custody in the UAE said that between June 2010 and June 2015, forty-three British nationals had complained to British officials about torture or mistreatment in the Emirates. Hence, if your employees get into trouble after a night drinking at the bar of the Burj Al-Khalifa luxury hotel, they can expect not only an unfair trial, but also some police brutality for good measure.
Is Dubai safe from terrorism in comparison to the rest of the Middle East? It is safe, but possibly not for long. In November last year, a plot was uncovered to blow up a shopping mall, and military action against the Houthis in Yemen and Daesh in Iraq and Syria is bound to lead to violent payback at some point. As the British Foreign Office guidance puts it, "There is a high threat from terrorism. Attacks could be indiscriminate, including in places frequented by expatriates and foreigner travellers. There is considered to be a heightened threat of terrorist attack globally against UK interests and British nationals, from groups or individuals motivated by the conflict in Iraq and Syria. You should be vigilant at this time."
Despite all of these risks, the British government is pushing hard for businesses to set up in the UAE. Last week, the government launched a new campaign to encourage stronger ties. Even if you're comfortable about doing business in countries with appalling human rights records, the case for investing in the Emirates is not as compelling as it once was. And as the once high-flying executive Haigh is finding out, if vindictive business partners or former employers really want it, you can end up in prison. You have been warned.
https://www.middleeastmonitor.com/20160315-vindictive-business-partners-or-employers-can-get-you-sent-to-prison-in-the-uae/