A FEARLESS ADVOCATE FOR JUSTICE AND EQUALITY
David Haigh is one of the most high profile human rights defenders and crisis managers focusing on the Middle East today.
He is a tireless and successful advocate for victims whose rights have been violated. His high-profile legal and rights battles have led to many landmark precedent-setting court decisions, hundreds of millions of dollars for his clients and significant media coverage for his clients. Most recently acting for HRH Skehika Latifa Bin Rashid Al Maktoum, against her father, the ruler of Dubai, Prime Minster and Vice President of the UAE.
When a high-profile Middle Eastern legal case or crisis hits the airwaves, we have become accustomed to seeing David in some key role as advocate, activist or commentator. But this internationally recognised advocate has built his pioneering career on much more than running Leeds United FC, Princess Latifa and his own fight for justice against the UAE. As a tireless crusader against discrimination in all areas of our lives, Haigh's reach has been wide and long. For the past two decades, he has played an integral role in combating injustices and winning new rights, especially for LGBT persons, women and minorities. He has helped thousands of people in the Middle East escape injustice, jail and torture and is publicly credited with paving the way for gay football managers and players following his ground-breaking anti homophobia initiatives at Leeds United.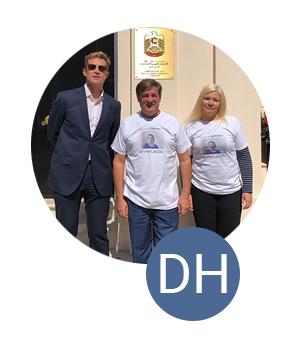 FEARLESS LAWYER, CRISIS MANAGER, LGBT ACTIVIST, TELEVISION AND RADIO COMMENTATOR, FOOTBALL CHAIRMAN, WARRIOR, AND WINNER
Fearless lawyer, crisis manager, activist, television and radio commentator, warrior, football chairman, advocate, and winner – David Haigh is all of these things and more.
Shortlisted by his peers as one of the best lawyers in the UK and the Middle East, described by the Lawyer magazine as "you wouldn't want to bet against him," and by Daily Beast as running "an extraordinarily slick – and convincing – PR campaign"
David now devotes his career and indomitable determination and strength to helping those in crisis and fighting for human rights.
Human Rights Watch are a fantastic international charity, that work tirelessly to protect us all across the world. They believed in me and supported me whilst I was wrongfully jailed, tortured and abused in Dubai. They issued a press release calling for my release and the charges to be dropped. I was acquitted and an innocent man only a few weeks later. Read more about them here. And please support their critical work.