A FEARLESS ADVOCATE FOR JUSTICE AND EQUALITY
David Haigh is recognised as one of the most high-profile human rights lawyers and crisis managers focusing on the Middle East today.
He is a tireless and successful advocate for those whose rights have been violated. His high-profile legal and human rights work has led to landmark court decisions, worldwide media coverage, hundreds of millions of dollars in compensation and of course freedom for those he helps.
Recently, David pursued a case for HRH Sheikha (Princess) Latifa Bin Rashid Al Maktoum against her father; the ruler of Dubai as well as Prime Minister and Vice President of the UAE. When the high-profile Middle Eastern legal case hits the airwaves, we have become accustomed to seeing David as a powerful advocate and an influential activist. Besides that, the convincing commentator is recognised as a person who has built his pioneering career running Leeds United FC, representing HRH Princess Latifa at the United Nations, advising hundreds of British suffering injustice in Dubai, and most importantly initiating his own fight for justice. As a tireless crusader against discrimination in all areas of our lives, David's reach has been wide and long. For the past two decades, he has been playing an integral role in combating injustice and winning equality, especially for LGBT, women in the UAE and Saudi Arabia spanning all the minorities in general. He has helped hundreds of people in the Middle East escape jail and torture. Additionally, David is publicly credited with paving the path way for gay football managers and players following his ground-breaking anti homophobia initiatives at Leeds United FC and the wider world of football.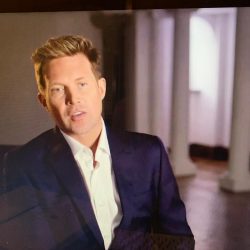 FEARLESS ADVOCATE, CRISIS MANAGER, LGBT ACTIVIST, TELEVISION AND RADIO COMMENTATOR, WRITER, FOOTBALL CHAIRMAN, WARRIOR, AND WINNER
Pursuing his career as a fearless lawyer who takes a stand to defend human rights followed by his services as a leading crisis manager, well renowned LGBT activist, recognised television and radio commentator, an influential and inspiring writer and football chairman, David Haigh has proved himself as a multitalented warrior and a winner possessing a good heart with an intellectual mind.
Acclaimed by his peers as one of the best lawyers in the UK and the Middle East in 2013, the Daily Beast praised his campaign to free Princess Latifa as "an extraordinarily slick – and convincing – PR campaign ostensibly designed to free her [Princess Latifa]" leading legal industry magazine the Lawyer concluding that "you wouldn't want to bet against him,"
David is on a long journey where he has devoted his career paired with indomitable determination and strength to helping those in crisis; meanwhile fighting for human rights, progressively campaigning for justice and equality and in to bring an end to LGBT and all discrimination in football. The globally recognised social advocate has become a vital contributor to multiple media platforms, in addition to consulting governments, politicians, football clubs, leading businessmen and international companies alike on matters such as justice, free speech, Interpol abuse along with reformative policies, extradition policy, asset protection and risk management in the Middle East.
Human Rights Watch are a fantastic international charity, that work tirelessly to protect us all across the world. They believed in me and supported me whilst I was wrongfully jailed, tortured and abused in Dubai. They issued a press release calling for my release and the charges to be dropped. I was acquitted and an innocent man only a few weeks later. Read more about them here. And please support their critical work.