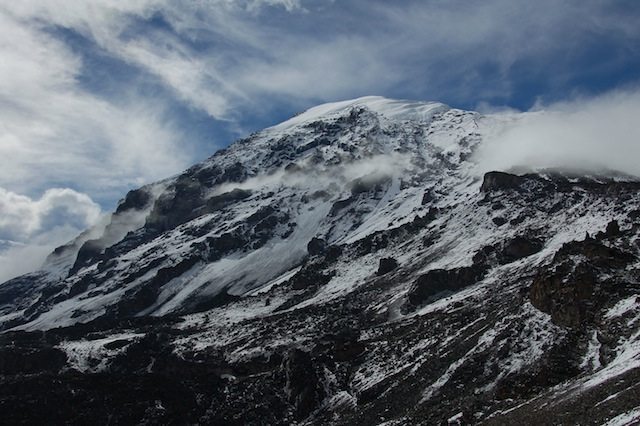 From the Worlds Tallest Building to Africa's tallest Mountain.
In June 2013 following my Arctic Trek I will be swapping the worlds tallest buildings and man made skyscrapers to climb 5895m up Africa's highest mountain, Kilimanjaro, and yes I will be taking the LUFC flag with me!
I am climbing to raise money for Make A Wish UK, St Gemma's Hospice in Leeds, Cornwall Air Ambulance and to raise awareness of HCU. I am hoping to raise GBP 2,000 for each charity and not to mention to get fit and have an experience of a lifetime on the way.
You can find out a little more about these great causes below and on their websites, but first the donation links for the Just Giving pages.
Donating through JustGiving is simple, fast and totally secure. Your details are safe with JustGiving – they'll never sell them on or send unwanted emails. Once you donate, they'll send your money directly to the charity and make sure Gift Aid is reclaimed on every eligible donation by a UK taxpayer. So it's the most efficient way to donate – I raise more, whilst saving time and cutting costs for the charity.
Make A Wish UK
http://www.justgiving.com/davidhaigh1-kili
St Gemma's Hospice
http://www.justgiving.com/davidhaigh1-kili-stgemma
Cornwall Air Ambulance
http://www.justgiving.com/davidhaigh1-kili-cornwall
A bit more about the causes.
Make A Wish UK
This is a cause very close to my heart, as they granted my niece a magical wish to be a Disney princess for a day, I have seen first hand the simple joy their fantastic work brings to kids around the world.
Make-A-Wish Foundation® UK is a charity with a singlepurpose – to grant magical wishes to children and young people aged 3-17 fighting life-threatening condition.
Over 20,000 children in the UK are living with a life-threatening condition, a figure validated by research commissioned by Make-A-Wish. Few things can be more important, or more deserving, than giving a seriously ill child the chance to have their wish come true.
St Gemma's Hospice Leeds
St Gemma's Hospice in Leeds provides specialist medical and nursing care for people with life threatening illnesses, predominantly cancer, along with support for their families.
Cornwall Air Ambulance
http://www.cornwallairambulancetrust.org/
For over 25 years, Cornwall Air Ambulance has been providing a vital helicopter emergency service to the community of Cornwall and the Isles of Scilly, flying 365 days a year and attending an average of 3-4 emergency missions every single day. Cornwall Air Ambulance receives no direct government or National Lottery funding, and so relies entirely on the generosity of our supporters – both in Cornwall and further afield.
HCU Trust
HCU is a genetic disorder that is incredibly hard for sufferers and their families to deal with. HCU Trust is a charity we are setting up to help change that.
HCU or Homocystinuria, is a genetic disorder that is incredibly hard for sufferers and  their families to deal with. It basically means that virtually no protein can be eaten and that the child's diet has to be rigidly regulated. As you can imagine this is no fun for kids who want to go to parties, raid the fridge and eat like everyone else.
When my niece was diagnosed, my sister and my brother in law had great difficulty in finding any information on the disease and support and advice from other parents was almost impossible to find.
HCU Trust is a charity we are setting up to help change that. CREDS is short for Cure, Research, Early Diagnosis, Support. Facebook has been great in getting parents together so that they can talk to other families affected by HCU. Locating the right foods and food suppliers is a job in itself.
Mount Kilimanjaro
Mount Kilimanjaro is Africa's tallest mountain at 5,895 metres (19,340 feet). It is a 'strato' volcano made up of both lava flows and pyroclastic material and is in fact three distinct volcanoes that first emerged around 750,000 years ago.
Heading up from the lower slopes you pass through five distinct vegetation zones that are progressively colder, drier, and less vegetated. Towards its summit, Kilimanjaro has numerous glaciers despite being just three degrees south of the equator.
Its ice covered summit was first reached on 5th October 1889 by Hans Meyer and Ludwig Purtsceller who named Kibo's peak Kaiser Wilhelm Spitz in honour of Germany's ruler. It was renamed as Uhuru Peak in 1961, Tanzania's year of independence, Uhuru meaning 'freedom' in Swahili.