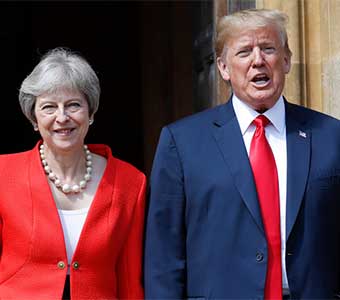 The Free Latifa campaign has slammed the "staggering hypocrisy" of this week's Global Women's Forum in Dubai and accused Ivanka Trump and Theresa May of betraying the cause of women by attending the high-profile event.
Around 3,000 delegates listened to 100 speakers at the two-day gathering, including the US president's daughter cum adviser, and the former British prime minister. Yet they were merely there to take part in "the latest publicity stunt designed to distract from Dubai's quite appalling treatment of women," according to the co-founder of the campaign to free the ruler of Dubai's daughter from forced captivity.
The event took place just days before the second anniversary of the attempt by Sheikha Latifa Al Maktoum, one of the two dozen children of Dubai's ruler Sheikh Mohammed bin Rashid Al Maktoum, to escape what she describes as the "gilded cage" of her life in Dubai. And it was hosted by a woman who herself has been the victim of Dubai's outdated treatment of women.
David Haigh, the human rights lawyer who co-founded the Free Latifa campaign, said: "Ivanka Trump and Theresa May have betrayed the cause of women by attending this charade in Dubai. They, or whoever is advising them, have no regard for the way Dubai treats women. It is merely the latest publicity stunt designed to distract from the country's quite appalling treatment of women.
"This is the state run by a man who locks up his daughters if they show any dissent and appears to abuse his wives, given that both his first and last ex-wife have made allegations against him. Our whole campaign is based on helping one of his daughters gain the freedom she seized in a daring escape in February 2018, only to be thwarted by his troops who stormed the boat she was on in international waters off India. And there are countless other family members – daughters, wives and nieces and nephews – who have had their human rights abused, yet a supposedly pro-women conference under Sheikh Mohammed's patronage is supported by two women the world looks to for a lead!
"It's a remarkable error of judgement by both women, on a par with the misjudgement made by the former UN human rights commissioner Mary Robinson when she allowed herself to be used for publicity purposes by Sheikh Mohammed in December 2018."
Promotional material for the conference quotes Sheikha Manal bint Mohammed bin Rashid Al Maktoum, president of the UAE Gender Balance Council and another of Sheikh Mohammed's daughters, as saying. "The UAE is today reaping the benefits of a development journey set in motion by its wise leadership, who believed in women's capabilities and the importance of their role in society.
"The UAE provides an inspirational model for the empowerment and socio-economic participation of women. The country has created a highly supportive environment for women to enhance their contributions to society. The global community's recognition of these remarkable achievements has led to the UAE becoming a venue for world's largest events focused on women's empowerment and advancement."
Haigh added, "This is staggering hypocrisy, coming from a woman who is not allowed to see her mother because she divorced Sheikh Mohammed. Her mother went public just two months ago to say she would love to see her daughter again, but Sheikh Mohammed has prevented it for 40 years, and here is Manal praising to high heaven the UAE's treatment of women!
Tiina Jauhiainen, the close friend of Princess Latifa, and kidnaped alongside her in March 2018 added "Clearly Manal has been told what to say, and one can only feel sorry for her. But Ivanka Trump and Theresa May have not – they have knowingly and willingly played into the UAE's hands with its brazen PR game, and added credibility to all the bogus statements about the Emirates promoting women's empowerment. In doing so, both women have tarnished their reputations as inspirations who other women look up to."
Several of Sheikh Mohammed's daughters remain incarcerated against their will in Dubai. Latifa has been enforced disappeared, presumably locked in a jail since her father's troops kidnapped her at gunpoint on 4 March 2018 following her escape attempt. Her full-sister Shamsa seemingly remains in a similar situation after her attempted escape and kidnapping off the streets of Cambridge in 2000. And Manal is married to Sheikh Mansour bin Zayed Al Nahyan, the UAE's deputy prime minister and owner of Manchester City Football Club, but she has not been allowed to see her own mother Sheikha Randa Al Banna for over four decades.
In December 2018, the former Irish president and UN human rights commissioner Mary Robinson visited Dubai and was photographed with Latifa in an attempt by the Dubai royal family to show Latifa was being cared for by her family. Robinson was heavily criticised for her visit and has yet to comment further. Haigh added, "The only positive spin anyone can put on Robinson's reputation from this publicity stunt gone bad is that her involvement was somehow part of a wider plan to assist Princess Haya flee Dubai with her children, and possibly Latifa. Until she says anything to confirm this, we have to be dubious about what's left of her reputation as a women's rights defender."
Last year Sheikh Mohammed's latest wife Sheikha Haya fled Dubai with their two children, issued a non-molestation order against Sheikh Mohammed, and is seeking custody of the children in a London court.
The Free Latifa campaign was set up by David Haigh and Tiina Jauhiainen, the Finnish national who helped Latifa escape from Dubai and who was kidnaped and taken to Dubai at gunpoint. She was held in Dubai in its national security jail without charge and subjected to inhumane treatment, but, unlike Latifa, was later released.
###
About Free Latifa: Princess Latifa stands for every person, especially every woman, who is held against their will when they have done nothing wrong. The Free Latifa Campaign is run by Latifa's family, closest friends, supporters and advisors. It is headed by Latifa's best friend Tiina Jauhiainen as Campaign Director, human rights lawyer and campaigner David Haigh, Latifa's cousin Marcus Essabri, and Latifa's close friends Stephania Martinengo and Marco Remes. The campaign also benefits from the support of Human Rights Watch, Amnesty International, Detained International and a growing number of Latifa's family, supporters, media, lawyers, politicians and celebrities around the world. The campaign is ab out positivity and love, we have one goal, to #FreeLatifa. Updates on the campaign can be found on www.freelatifa.com
Press Contact
Tiina Jauhiainen and David Haigh
Campaign to Free Latifa
Email:                          latifa@freelatifa.com
Telephone:                  + 44 (0) 203 900 1188
Twitter:                       @freelatifa
Facebook:                    @freelatifa
Instagram:                   @freelatifa